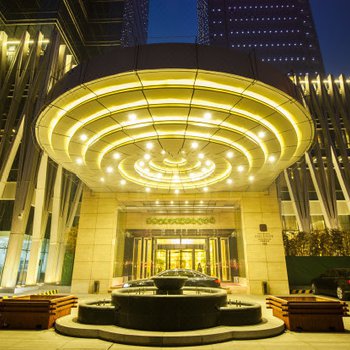 The Building of Hebei Hotel is located in Yucai street, with a superior geographical location, about 10 minutes' drive from the city center.
Relying on the noble service of Zhongmao Haiyue Hotel, the VIP Building of Hebei Hotel selects global brand furniture and creates a fashionable visual feast with its luxurious hardcover. The deluxe one bedroom and three bedroom rooms are distinguished and equipped with "24-hour golden key" noble service. Meet your various life and business needs in an all-round way, so that you can enjoy noble services and feel the respect and courtesy of the British Royal aristocracy.
Tianyuehui is a high-quality leisure place and club of the hotel, which is equipped with indoor golf, scene hunting, billiards and other multi-functional facilities, so that you can gallop on the sand field and play mini golf without leaving home. The HD digital machine projects the real forest environment onto the big screen. Whether it is running and jumping prey or changing bullseye, you can shoot calmly and enjoy the joy of victory, So that you who have lived in the downtown area for a long time can find a real feeling of having been away from nature for a long time.